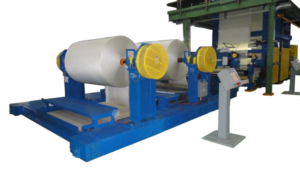 C. A. Litzler Co., Inc. has received an order to design and build a 100/125 meter per minute double dip Tire Cord Dip Line for Performance Fibers in Kaiping, China. Performance Fibers is a division of Indorama Ventures Public Company Limited. With the purchase and installation of this equipment, Performance Fibers will be the largest producer of tire cord in China. Benefits of the Litzler Tire Cord Line include:
Multiple tension zones throughout the line providing maximum flexibility for elongating/relaxing the cord to meet specific processing criteria.
Line speed up to 125 m/min.
Speed and tension control accuracy of ±0.1% to achieve control of critical cord properties.
Improved spreader design for better control of low EPI fabric.
Proprietary 'No-foam' dip system.
Litzler offers 64 years of experience designing ovens which are the most critical component for tire cord production. Litzler ovens are specially designed for tire cord drying and curing. The ovens feature all of the technical innovations that Litzler is known for, including:
High velocity jet nozzles for consistently uniform heat transfer.
Precise temperature control for optimum safety and highest product quality.
Energy efficient oven designs utilizing premium efficiency motors and variable speed drives for lower operating costs.
State-of-the-art open network controls by Litzler Automation, including multiple redundant PLC networks with Ethernet communications to save installation time and costs.
For more information, call 1-216-267-8020 or visit www.calitzler.com.
Back to News